Decision support system for digitally climate informed services to farmers in India
Keywords:
GKMS, Weather Forecast, Agromet DSS, ICT, Advisory feedback
Abstract
India Meteorological Department (IMD), Ministry of Earth Sciences (MoES) in collaboration with Indian Council of Agriculture Research (ICAR), State Agriculture Universities (SAUs) , Indian Institute of Technology (IITs) and other organizations is rendering weather forecast based District level Agrometeorological Advisory Service (AAS) for benefits of farmers in the country under the centrally sponsored scheme 'Atmosphere & Climate Research-Modelling Observing Systems & Services (ACROSS) ' of MOES. AAS, popularly known as Gramin Krishi Mausam Sewa (GKMS) provides advance weather information along, with crop specific agromet advisories to the farming community by using state of the art instruments and technology through efficient delivering mechanism of the information which ultimately enables farmers to take appropriate actions at farm level. The various components of GKMS viz. observing weather, its monitoring and forecast; crop specific advisory bulletin generation and dissemination; outreach and feedback have been/are being digitized to support integrating all the components of information generation and action suggested linked to these information. An Information and Communication Technology (ICT) based Agromet Decision Support System is developed for automation of the services provided under GKMS. This includes a dynamic framework to link the information of weather forecast, real time weather observation, crop-weather calendar etc. to translate weather forecast into actionable farm advisories for efficient farm level decision making in India. Apart from this, effort is being made to develop recent technology driven tools to estimate future yield of crops and prepare an irrigation schedule without a need of multiple parameters.
References
Charvat, K., Junior, K.C., Reznik, T., Lukas, V., Jedlicka, K., Palma, R., Berzins, R. (2018). Advanced visualisation of big data for agriculture as part of databio development. In Proceedings of the IGARSS. In "IEEE International Geoscience and Remote Sensing Symposium", Valencia. pp. 415–418.
Daron, J. D., Lorenz, S., Wolski, P., Blamey, R. C., and Jack, C. (2015). Interpreting climate data visualisations to inform adaptation decisions. Climate Risk Manag., 10: 17–26.
Jedlička, K. and Charvát, K., (2018). Visualisation of big data in agriculture and rural development. In "Proceedings of the IST-Africa Week Conference (IST-Africa)", Gaborone, Botswana.
Jones, J.W., (1980). Decision support systems – An organizational perspective. Adm. Sci. Q., 25 (2): 376-382.
Nowak, B. (2021). Precision agriculture: Where do we stand? A review of the adoption of precision agriculture technologies on field crops farms in developed countries. Agric. Res., 10: 515–522
Rao, V.U.M., Rao, A.V.M.S., Sarath Chandran, M.A., Prabhjyot Kaur., Vijaya Kumar, P., BapujiRao, B., Khandgond, I.R. and Srinivasa Rao, Ch. (2015). District level crop weather calendars of major crops in India. Central Research Institute for Dryland Agriculture, Hyderabad – 500 059, 40 pp.
Sheng, Y.K. and Zhang, S. (2009). Analysis of problems and trends of decision support systems development In: International Conference on E-Business and Information System Security. pp. 1216-1218.
Singh, K.K., Baxla, A.K., Singh, P. and Singh, P.K. (2019). Weather Based Information on Risk Management in Agriculture. In book: "Climate Change and Agriculture in India: Impact and Adaptation" DOI: 10.1007/978-3-319-90086-5_16
Taechatanasat, P. and Armstrong, L. (2014). Decision support system data for farmer decision making Proceedings of Asian Federation for Information Technology. Agriculture, pp. 472-486.
Terribile, F., Agrillo,A., Bonfante, A., Buscemi, G., Colandrea, M., D'Antonio, A., De Mascellis, R., DeMichele, C., Langella, G., Manna, P., Marotta, L., Mileti,F.A., Minieri, L. Orefice, N., Valentini, S., Vingiani, S. and Basile, A. (2015). A web-based spatial decision supporting system for land management and soil conservation.
Turban, E .(1995). Decision support and expert system . Prentice Hall , USA
Kumar, V. P., Bal, S.K., Dhakar, R. (2021). Algorithms for weather-based management decisions in major rainfed crops of India: Validation using data from multi-location field experiments. Agronomy J., 113:1−15. https://doi.org/10.1002/agj2.20518.
Wilkinson, E., Budimir, M., Ahmed, A. K., and Ouma, G. (2015). Climate information and services. BRACED countries. (1).
Yazdani, M., Zarate, P., Coulibaly, A. and Zavadskas, E.K. (2017). A group decision making support system in logistics and supply chain management. Expert Syst. Appl., 88: 376-392.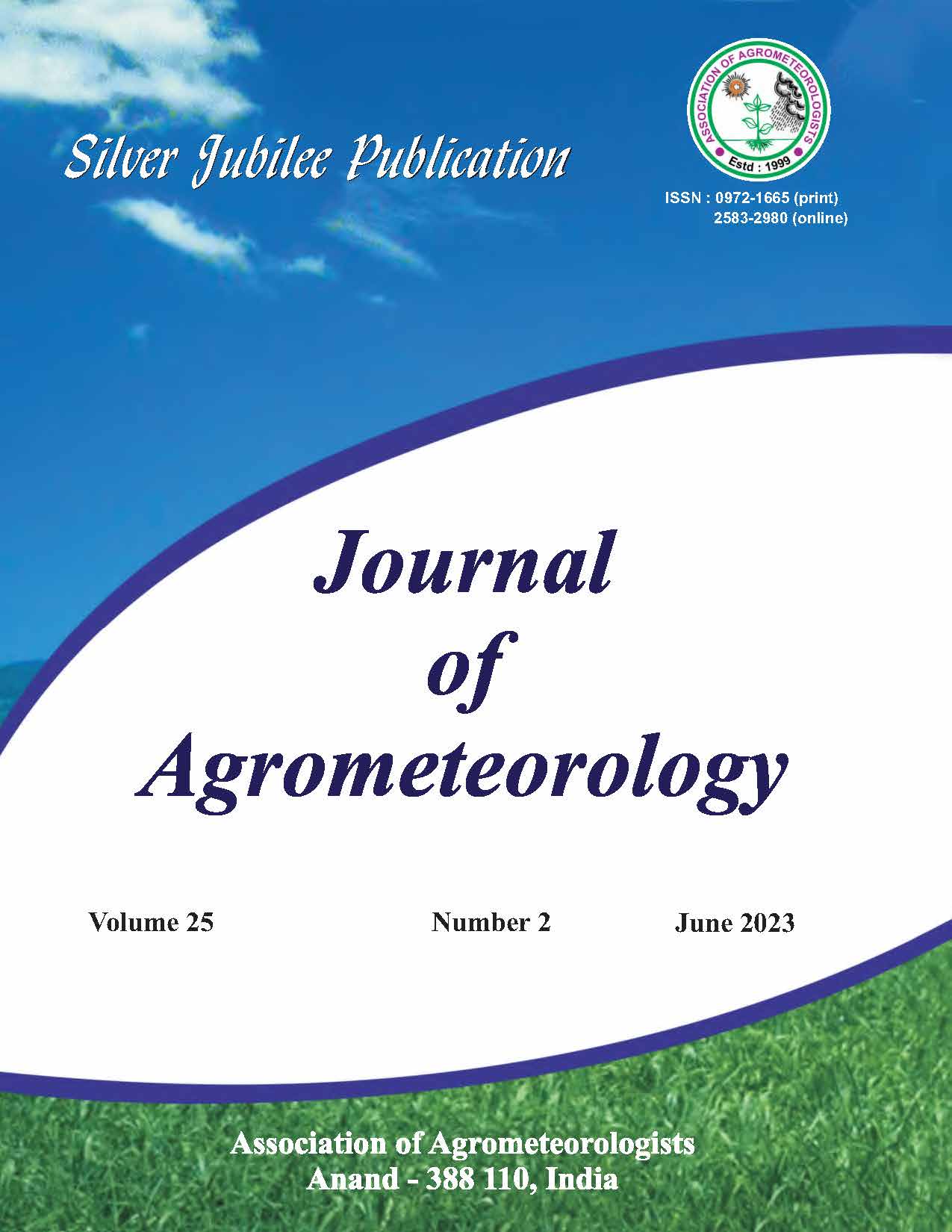 Downloads
How to Cite
K. K. SINGH, KRIPAN GHOSH, S. C. BHAN, PRIYANKA SINGH, LATA VISHNOI, R. BALASUBRAMANIAN, S. D. ATTRI, SHESHAKUMAR GOROSHI, & R. SINGH. (2023). Decision support system for digitally climate informed services to farmers in India. Journal of Agrometeorology, 25(2), 205–214. https://doi.org/10.54386/jam.v25i2.2094
Section
Invited Articles (Silver Jubilee Publication)
License
Copyright (c) 2023 K. K. SINGH, KRIPAN GHOSH, S. C. BHAN, PRIYANKA SINGH, LATA VISHNOI, R. BALASUBRAMANIAN, S. D. ATTRI, SHESHAKUMAR GOROSHI, R. SINGH
This work is licensed under a Creative Commons Attribution-NonCommercial-ShareAlike 4.0 International License.
This is a human-readable summary of (and not a substitute for) the license. Disclaimer.
You are free to:
Share — copy and redistribute the material in any medium or format
Adapt — remix, transform, and build upon the material
The licensor cannot revoke these freedoms as long as you follow the license terms.
Under the following terms:
Attribution — You must give appropriate credit, provide a link to the license, and indicate if changes were made. You may do so in any reasonable manner, but not in any way that suggests the licensor endorses you or your use.
NonCommercial — You may not use the material for commercial purposes.
ShareAlike — If you remix, transform, or build upon the material, you must distribute your contributions under the same license as the original.
No additional restrictions — You may not apply legal terms or technological measures that legally restrict others from doing anything the license permits.
Notices:
You do not have to comply with the license for elements of the material in the public domain or where your use is permitted by an applicable exception or limitation.
No warranties are given. The license may not give you all of the permissions necessary for your intended use. For example, other rights such as publicity, privacy, or moral rights may limit how you use the material.