Microclimate and thermal indices of garden pea (Pisum Sativum L.) under poplar (Populus Deltoides Bartr.) based agroforestry system
References
Anonymous (2021). India State of Forest Report. Forest Survey of India, Dehradun, India.
Bhardwaj, A., Kaur, N., Dhat, A.S. and Gill, R.I.S. (2021). Optimization of onion planting time and variety under Populus deltoides based agroforestry system in north-western India. Agrofor. Syst., 95: 533-546.
Chauhan, S.K., Dhillon, W.S., Singh, N. and Sharma, R. (2013). Physiological behaviour and yield evaluation of agronomic crops under agri-horti-silviculture system. Int. J. Plant. Res., 3: 1-8.
Gill, K.K., Babuta, R., Kaur, N., Kaur, P. and Sandhu, S.S. (2014). Thermal requirement of wheat crop in different agroclimatic regions of Punjab under climate change scenarios. Mausam, 65: 417-424.
Gill, K.K., Kaur, N. and Gill, R.I.S. (2016). Evaluation of growth and yield of wheat cultivars using agroclimatic indices under poplar based agroforestry system in Punjab. J. Agrometerol., 18(1): 124-127. https://doi.org/10.54386/jam.v18i1.914
Hatfield, J.L. (2014). Radiation Use Efficiency: Evaluation of cropping and management systems. Agron. J., 106: 1820-1827.
Jyoti, Kaur, N., Dhatt, A.S. and Gill, R.I.S. (2019). Growth and yield of onion (Allium cepa L.) varieties as influenced by planting time under poplar-based agroforestry system. Agric. Res. J., 56: 248-253.
Kaur, N., Gill, K.K., Singh, B., Gill, R.I.S. and Parija, B. (2020). Heat unit requirement and radiation use efficiency of wheat cultivars under agroforestry systems in Northern India. J. Agrometeorol., 22(Special issue): 112-20.
Singh, P., Sharma, S.P., Kaur, N. and Gill, R.I.S. (2019). Potato cultivars differ in response to date of planting in intercrop with poplar (Populus deltoides Bartr. ex Marsh.) in irrigated agro-ecosystem of north-west India. Agrofor. Syst., 93: 2345-2355.
Virk, J., Gill, R.I.S., Kaur, N., Singh, B. and Singh, R. (2017). Evaluation of wheat varieties under Populus deltoides plantation at various tree spacing. Indian J. Agrofor., 19: 57-62.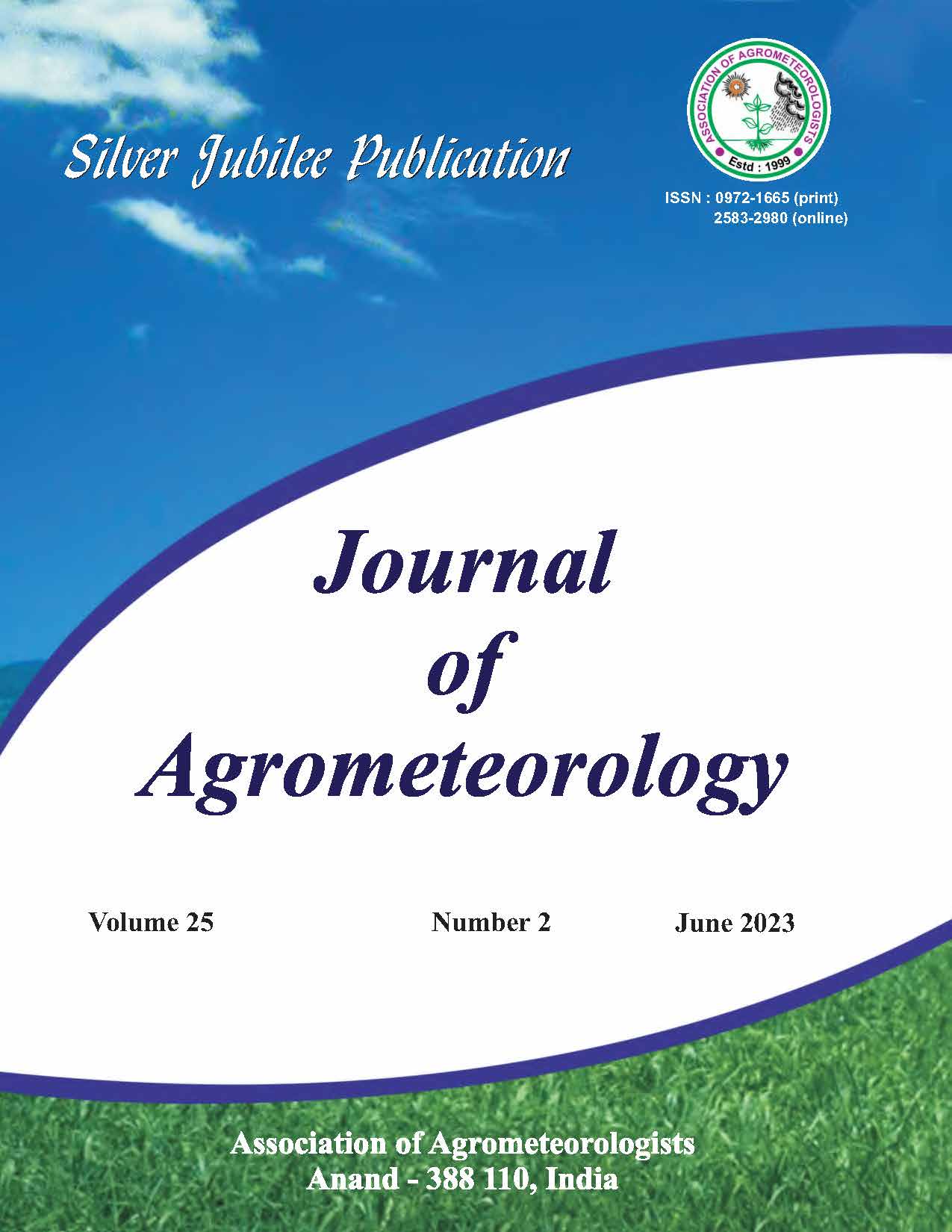 Downloads
How to Cite
JOBANPREET KAUR, NAVNEET KAUR, SARABJOT KAUR SANDHU, & HARMANDEEP KAUR. (2023). Microclimate and thermal indices of garden pea (Pisum Sativum L.) under poplar (Populus Deltoides Bartr.) based agroforestry system. Journal of Agrometeorology, 25(2), 330–332. https://doi.org/10.54386/jam.v25i2.2054
Section
Short Communication
License
Copyright (c) 2023 JOBANPREET KAUR, NAVNEET KAUR, SARABJOT KAUR SANDHU, HARMANDEEP KAUR
This work is licensed under a Creative Commons Attribution-NonCommercial-ShareAlike 4.0 International License.
This is a human-readable summary of (and not a substitute for) the license. Disclaimer.
You are free to:
Share — copy and redistribute the material in any medium or format
Adapt — remix, transform, and build upon the material
The licensor cannot revoke these freedoms as long as you follow the license terms.
Under the following terms:
Attribution — You must give appropriate credit, provide a link to the license, and indicate if changes were made. You may do so in any reasonable manner, but not in any way that suggests the licensor endorses you or your use.
NonCommercial — You may not use the material for commercial purposes.
ShareAlike — If you remix, transform, or build upon the material, you must distribute your contributions under the same license as the original.
No additional restrictions — You may not apply legal terms or technological measures that legally restrict others from doing anything the license permits.
Notices:
You do not have to comply with the license for elements of the material in the public domain or where your use is permitted by an applicable exception or limitation.
No warranties are given. The license may not give you all of the permissions necessary for your intended use. For example, other rights such as publicity, privacy, or moral rights may limit how you use the material.