Heat unit requirement of sweet corn under different planting methods and dates in temperate Kashmir, India
Keywords:
Sweet corn, Planting, Establishment and Phenology
Abstract
In order to investigate the "Effect of Establishment method and Planting date on phenology, yield, and agrometeorological indices for sweet corn," a field experiment was carried out at the Sher-e-Kashmir University of Agricultural Sciences and Technology of Kashmir Wadura, Sopore experimental farm of the Division of Agronomy, over the course of two sessions in Kharif 2020 and 2021. The experiment had two components: a distinct sowing date with a 20-day interval and two establishment methods (direct seeding and transplanting). The initial planting day was (25th of April, 2nd was 15th of May and third was 5th of June during both the years) Three replications in RCBD were confirmed. Following transplanting with the first date of sowing, direct seeding required the most days to attain different phenological stages and accumulate the most heat units. Transplanting with the initial date of sowing resulted in noticeably greater HUE, HTUE, PTUE, and HyTUE, resulting in the largest green cob and biological yield as compared to other dates of sowing and direct seeding. As a result, given the weather in Kashmir It was discovered that planting on the first day of sowing increased sweet corn yields economically.
References
Ahmed, P., Saikia, M., Pathak, K., and Choudhury, M. (2020). Effect of microclimatic regimes and nitrogen management practices on phenology, yield and agrometeorological indices for rabi maize. J. Pharma Phytochem., 9(5): 971–974.
Dekhane, S. S., and Dumbre, R. B. (2017). Influence of different sowing dates on plant growth and yield of hybrid sweet corns. Adv Res. Crop Improv., 8(2): 191–194.
El-Hamed, K., Elwan, M., and Shaban, W. (2011). Enhanced sweet corn propagation: Studies on transplanting feasibility and seed priming. J. Fruit Orn Plant Resh., 75(1): 31–50.
Garcia, A. G., Guerra, L. C., and Hoogenboom, G. (2009). Impact of planting date and hybrid on early growth of sweet corn. Agron. J., 101(1): 193–200. DOI: https://doi.org/10.2134/agronj2007.0393
Gavric, T., and Omerbegovic, O. (2021). Effect of transplanting and direct sowing on productive properties and earliness of sweet corn. Chilean J. Agri. Res., 81(1): 39–45.
Gowda, P. T., Halikatti, S. I., and Manjunatha, S. B. (2013). Thermal requirement of maize (Zea mays L.) as influenced by planting dates and cropping systems. Res. J. Agric. Sci., 4(2): 207–210.
Gudadhe, N. N., Kumar, N., Pisal, R. R., Mote, B. M., and Dhonde, M. B. (2013). Evaluation of agrometeorological indices in relation to crop phenology of cotton (Gossipium spp.) and chickpea (Cicer aritinum L.) at Rahuri region of Maharashtra. Trends in Biosci., 6(3): 246–250.
Hacisalihoglu, G., Kantanka, S., Miller, N., Gustin, J. L., and Settles, A. M. (2018). Modulation of early maize seedling performance via priming under sub-optimal temperatures. PloS One, 13(11): e0206861.
Jan, B., Anwar Bhat, M., Bhat, T. A., Yaqoob, M., Nazir, A., Ashraf Bhat, M., Mir, A. H., Wani, F. J., Kumar Singh, J., Kumar, R., Gasparovic, K., He, X., Nasif, O., and Tan Kee Zuan, A. (2021). Evaluation of seedling age and nutrient sources on phenology, yield and agrometeorological indices for sweet corn (Zea mays saccharata L.). Saudi J Bio Sci., DOI: https://doi.org/10.1016/j.sjbs.2021.10.010
Kara, B., Atar, B., and Gul, H. (2012). Effects of different sowing dates on protein, sugar and dry matter of sweet corn. Res. Crops, 13(2): 493–497.
Keerthi, P., and Reddy, G. P. (2017). Growth and yield of sweet corn cultivars under different environmental conditions in southern agro-climatic zone of Andhra Pradesh. Environ Ecol., 35(3A): 1826–1828.
Khavse, R., Deshmukh, R., Verma, N., and Kausik, D. (2015). Phenology growth and yield of wheat in relation to agrometeorological indices under different sowing dates. Plant Archives, 15(1): 81–87.
Malo, M., and Ghosh, A. (2018). Studies on different agrometeorological indices and thermal use efficiencies of rice in New Alluvial Zone of West Bengal. Bull. Env. Pharmacol. Life Sc., 7(6), 72–78.
Mao, J., Yu, Y., Yang, J., Li, G., Li, C., Qi, X., Wen, T., and Hu, J. (2017). Comparative transcriptome analysis of sweet corn seedlings under low-temperature stress. The Crop J., 5(5): 396–406.
Mehdi, N. H. M., Hussain, N. F. M., Zargar, E. A. D. K. A., and Dar, S. A. S. R. (2018). Impact of Frontline Demonstrations on Varietial Evaluation of Wheat (Triticum aestivum ) Under Cold Arid Condition of Kargil ( J & K ). Ind. J. Hill Farming., Special Issue, Page 54–57.
Rahman, A. M. A., Magboul, E. L., and Nour, A. E. (2004). Effects of sowing date and cultivar on the yield and yield components of maize in northern Sudan. Int Appr to Higher Maize Pro in the New Millennium: Proceedings of the Seventh Eastern and Southern Africa Regional Maize Conference, Nairobi, Kenya, 5-11 February 2002, 295.
Saseendran, S. A., Ma, L., Nielsen, D. C., Vigil, M. F., and Ahuja, L. R. (2005). Simulating planting date effects on corn production using RZWQM and CERES-Maize models.
Tampus, D. S., and Escasinas, R. O. (2019). … fuciphagus) Manure and Methods of Crop Establishment on the Growth and Yield of Sweet Corn (Zea mays var. Saccharata) in Western Leyte, Philippines. Adv Crop Sci Tech, June. https://doi.org/10.4172/2329-8863.1000422
Thakur, P., Kumar, S., Malik, J. A., Berger, J. D., and Nayyar, H. (2010). Cold stress effects on reproductive development in grain crops: an overview. Enl Exp Bot., 67(3): 429–443.
Wijewardana, C., Henry, W. B., Hock, M. W., and Reddy, K. R. (2016). Growth and physiological trait variation among corn hybrids for cold tolerance. Cana J. Pl. Sci, 96(4): 639–656.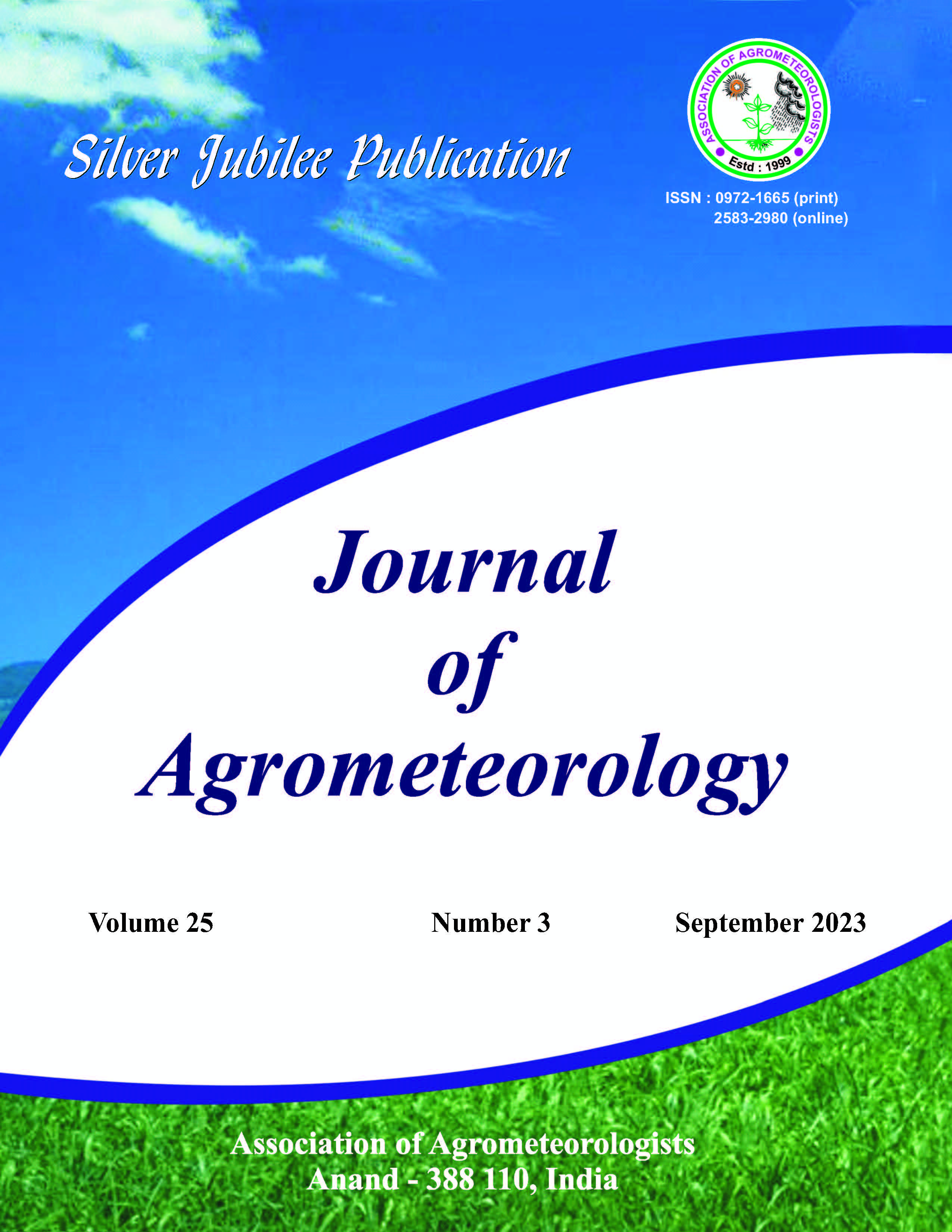 Downloads
How to Cite
HUSSAIN, N., HUSSAIN, A., BHAT, M. A., WANI, O. A., HUSSAIN, A., BHAT, T. A., MIR, A. H., WANI, F. J., KOUSER, S., FATIMA, N., HUSSAIN, M., & HUSSAIN, S. (2023). Heat unit requirement of sweet corn under different planting methods and dates in temperate Kashmir, India. Journal of Agrometeorology, 25(3), 448–453. https://doi.org/10.54386/jam.v25i3.2251
License
Copyright (c) 2023 NAZIR HUSSAIN, ASHAQ HUSSAIN, MOHD ANWAR BHAT, OWAIS ALI WANI, ANWAR HUSSAIN, TAUSEEF AHMAD BHAT, AMIR HASAN MIR, FEHIM J WANI, SHAHEEN KOUSER, NASREEN FATIMA, MANSOOR HUSSAIN, SHABBER HUSSAIN
This work is licensed under a Creative Commons Attribution-NonCommercial-ShareAlike 4.0 International License.
This is a human-readable summary of (and not a substitute for) the license. Disclaimer.
You are free to:
Share — copy and redistribute the material in any medium or format
Adapt — remix, transform, and build upon the material
The licensor cannot revoke these freedoms as long as you follow the license terms.
Under the following terms:
Attribution — You must give appropriate credit, provide a link to the license, and indicate if changes were made. You may do so in any reasonable manner, but not in any way that suggests the licensor endorses you or your use.
NonCommercial — You may not use the material for commercial purposes.
ShareAlike — If you remix, transform, or build upon the material, you must distribute your contributions under the same license as the original.
No additional restrictions — You may not apply legal terms or technological measures that legally restrict others from doing anything the license permits.
Notices:
You do not have to comply with the license for elements of the material in the public domain or where your use is permitted by an applicable exception or limitation.
No warranties are given. The license may not give you all of the permissions necessary for your intended use. For example, other rights such as publicity, privacy, or moral rights may limit how you use the material.