Assessing future precipitation and temperature changes for the Kesinga Basin, India according to CORDEX-WAS climate projections
Keywords:
CORDEX-WAS, Regional climate model, Climate change projections, Model ensembles
References
Abhijeet, D. and Tripathy, B. (2019). Water Quality Monitoring and Its Assessment on Mahanadi Basin. J. Comput. Eng., 2250-3021: 2278-8719. DOI: 10.9790/1684-1803033955.
Boomiraj, K., Suhas, P., Wani, P.K., Aggarwal. and Palanisami, K. (2010). Climate change adaptation strategies for agro-ecosystem- a review. J. Agrometeorol., 12(2):145-160. DOI: https://doi.org/10.54386/jam.v12i2.1297.
Baljeet, K., Navneet, K., Sanjeev, K.K. and Sompal, S. (2022). Assessing the variability in temperature and rainfall extremes using RClimdex in Jalandhar district of Punjab. J. Agrometeorol., 24(4):437-439. https://doi.org/10.54386/jam.v24i4.1749.
Haftu, A. and Haftom, H. (2022). Characterization of changing trends of baseline and future projected precipitation and temperature of Tigray, Ethiopia. J. Agrometeol., 24(3):235-240. https://doi.org/10.54386/jam.v24i3.1709.
IPCC (2014). Climate Change 2014: Synthesis Report. Contribution of Working Groups I, II and III to the Fifth Assessment Report of the Intergovernmental Panel on Climate Change [Core Writing Team, R.K. Pachauri and L.A. Meyer (eds.)]. IPCC, Geneva, Switzerland, 151 pp.
Netrananda, S., Arpita, P., Sridhara, N., Atul, S., Manoranjan, M., Takahiro, S., Limonlisa, S., Duan, W. and Behera, R.A.B. (2020). Impact of Indo-Pacific Climate Variability on High Streamflow Events in Mahanadi River Basin, India. Water., 12(7):1952. https://doi.org/10.3390/w12071952.
Phoncharoen, P. P., Banterng, L.P., Moreno-Cadena, N., Vorasoot, S., Jogloy, P., Theerakulpisut, and Hoogenboom, G. (2021). Performance of the CSM-MANIHOT–Cassava Model for simulating planting date response of cassava geneotypes. Field Crops Res., 264: 108073. https://doi. org/10.1016/j.fcr.2021.108073.
Rathjens, H., Bieger, K., Srinivasan, R. and Arnold, J.G., (2016). CMhyd User Manual Documentation for preparing simulated climate change data for hydrologic impact studies, Texas.
Riahi, K., Gurgler, A. and Nakicenovic, N. (2007). Scenarios of Long-Term Socio-Economic and Environmental Development under Climate Stabilization. Technol. Forecast. Soc. Chang., 74:887–935. https://doi.org/10.1061/j.techfore.2006.05.026.
Rijwana, P., Meenu, R., Aakansha, A. and Akash, D.K. (2023). Impacts of climate change on future crop water demand in an agricultural watershed in Mayurbanj district of Odisha, India. J. Agrometeorol., 25 (2):326-329. https://doi.org/10.54386/jam.v25i2.1952.
Tassia, M. B., Philip, W.G., William J. G. and Thompson, J.R. (2023). Assessing the Influence of a Bias Correction Method on Future Climate Scenarios Using SWAT as an Impact Model Indicator. Water., 15(4):750. https://doi.org/10.3390/w15040750.
Taylor, K.E., Stouffer, R.J. and Meehl, G.A. (2012). An overview of CMIP5 and the experiment design. Bull. Am. Meteorol. Soc., 93:485–498. https://doi.org/10.1175/BAMS-D-11- 00094.1.
Tyagi, N., Jayal, T., Mukesh, S., Vipan, M., Saini, A., Nirbhav, Netrananda, S. and Sridhara, N. (2022). Evaluation of Observed and Future Climate Change Projection for Uttarakhand, India, Using CORDEX-SA. Atmosphere., 13: 947. DOI: https://doi.org/10.3390/atmos13060947.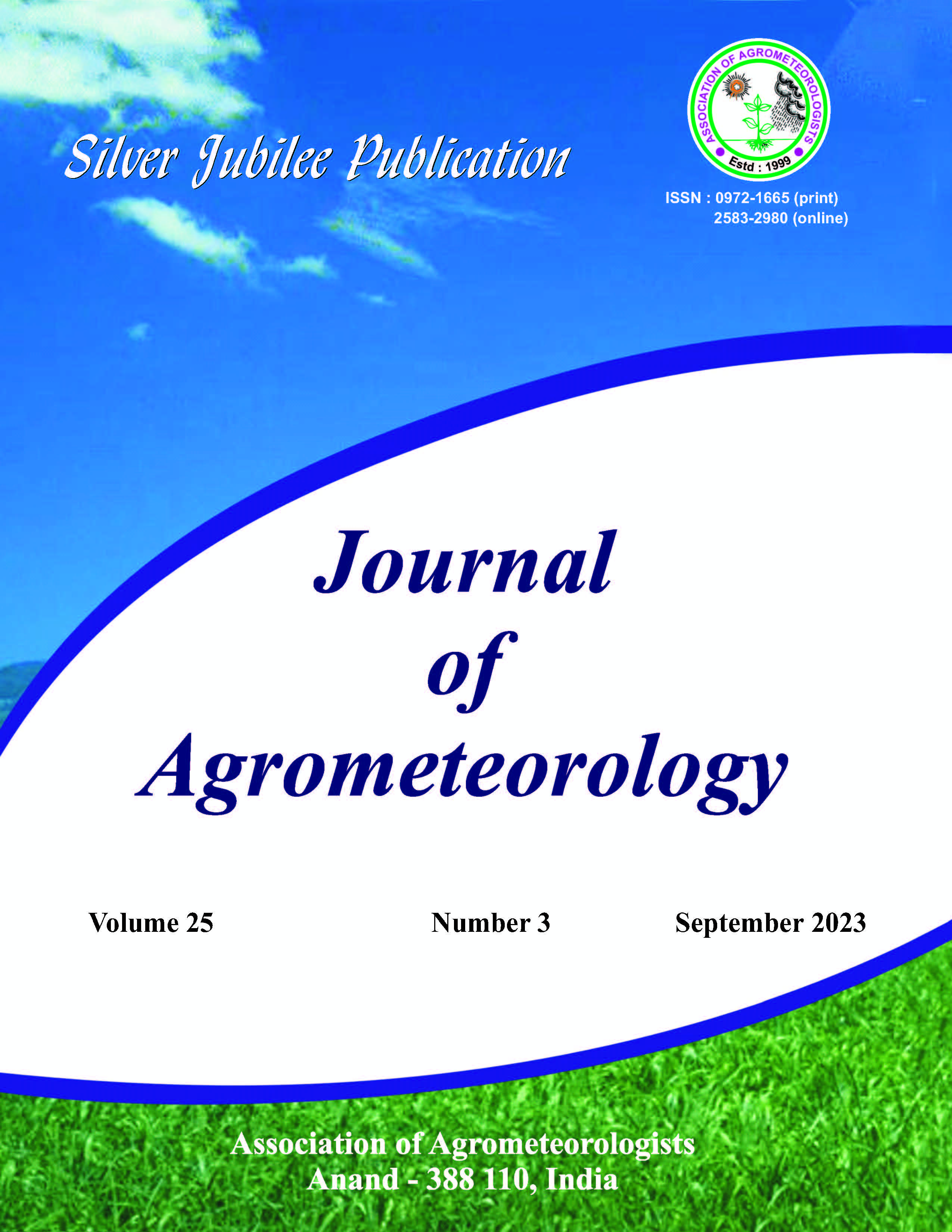 Downloads
How to Cite
VANI, P. C., B.C. SAHOO, J.C. PAUL, A.P. SAHU, & A.K.B. MOHAPATRA. (2023). Assessing future precipitation and temperature changes for the Kesinga Basin, India according to CORDEX-WAS climate projections. Journal of Agrometeorology, 25(3), 466–469. https://doi.org/10.54386/jam.v25i3.2228
Section
Short Communication
License
Copyright (c) 2023 PERELI CHINNA VANI
This work is licensed under a Creative Commons Attribution-NonCommercial-ShareAlike 4.0 International License.
This is a human-readable summary of (and not a substitute for) the license. Disclaimer.
You are free to:
Share — copy and redistribute the material in any medium or format
Adapt — remix, transform, and build upon the material
The licensor cannot revoke these freedoms as long as you follow the license terms.
Under the following terms:
Attribution — You must give appropriate credit, provide a link to the license, and indicate if changes were made. You may do so in any reasonable manner, but not in any way that suggests the licensor endorses you or your use.
NonCommercial — You may not use the material for commercial purposes.
ShareAlike — If you remix, transform, or build upon the material, you must distribute your contributions under the same license as the original.
No additional restrictions — You may not apply legal terms or technological measures that legally restrict others from doing anything the license permits.
Notices:
You do not have to comply with the license for elements of the material in the public domain or where your use is permitted by an applicable exception or limitation.
No warranties are given. The license may not give you all of the permissions necessary for your intended use. For example, other rights such as publicity, privacy, or moral rights may limit how you use the material.