Assessment of growth and productivity of pearl millet (Pennisetum glaucum L.) with varied sowing environments and nitrogen concentrations using AquaCrop model
References
Bello, Z. A. (2013). Characterization and modelling of water use by amaranthus and pearl millet (Doctoral dissertation, University of the Free State).
Hamid J F, Gabriella I and Theib Y O (2009). Parameterization and evaluation of the AquaCrop model for full and deficit irrigated cotton. Agronomy J., 101: 469–76.
Jin, X. L., Feng, H. K., Zhu, X. K., Li, Z. H., Song, S. N., Song, X. Y and Guo, W. S. (2014). Assessment of the AquaCrop model for use in simulation of irrigated winter wheat canopy cover, biomass, and grain yield in the North China Plain. PloS one, 9(1), e86938.
Nash, J. E., & Sutcliffe, J. V. (1970). River flow forecasting through conceptual models part I—A discussion of principles. J. Hydrol., 10(3), 282-290.
Sankar, T., Ramanathan, S. P., Kokilavani, S., Chandrakumar, K., & Kalarani, M. K. (2023). Assessment of AquaCrop model for simulating Baby corn (Zea mays L.) growth and productivity under different sowing windows and crop geometries. J. Agrometeorol., 25(2), 280-286. DOI: https://doi.org/10.54386/jam.v25i2.2119
Suman, K., Susama, S., Anchal, D., Manoj, K., Sehgal, V. K., and Neelam, P. (2019). Assessing aquacrop model for pearlmillet (Pennisetum glaucum) under in-situ water conservation in a rainfed semi-arid environment. Indian J. Agric. Sci., 89(8), 1349-1355.
Upadhyay, PN., Dixit, A.G., Patel, J.R. and Chavda, J.R. (2001). Response of summer pearl millet to time and method of planting, age of seedling and phosphorus grown on loamy sand soils of Gujarat. Indian J. Agron. 46(1): 126- 130.
Van Oosterom, E. J., Carberry, P. S., Hargreaves, J. N. G., and O'leary, G. J. (2001). Simulating growth, development, and yield of tillering pearl millet: II. Simulation of canopy development. Field Crops Res., 72(1), 67-91.
Watson, D. J. (1947). Comparative physiological studies on the growth of field crops: I. Variation in net assimilation rate and leaf area between species and varieties, and within and between years. Annals Bot., 11(41): 41-76.
Willmott, C. J. (1982). Some comments on the evaluation of model performance. Bull. American Meteorol. Soci., 63(11): 1309-1313.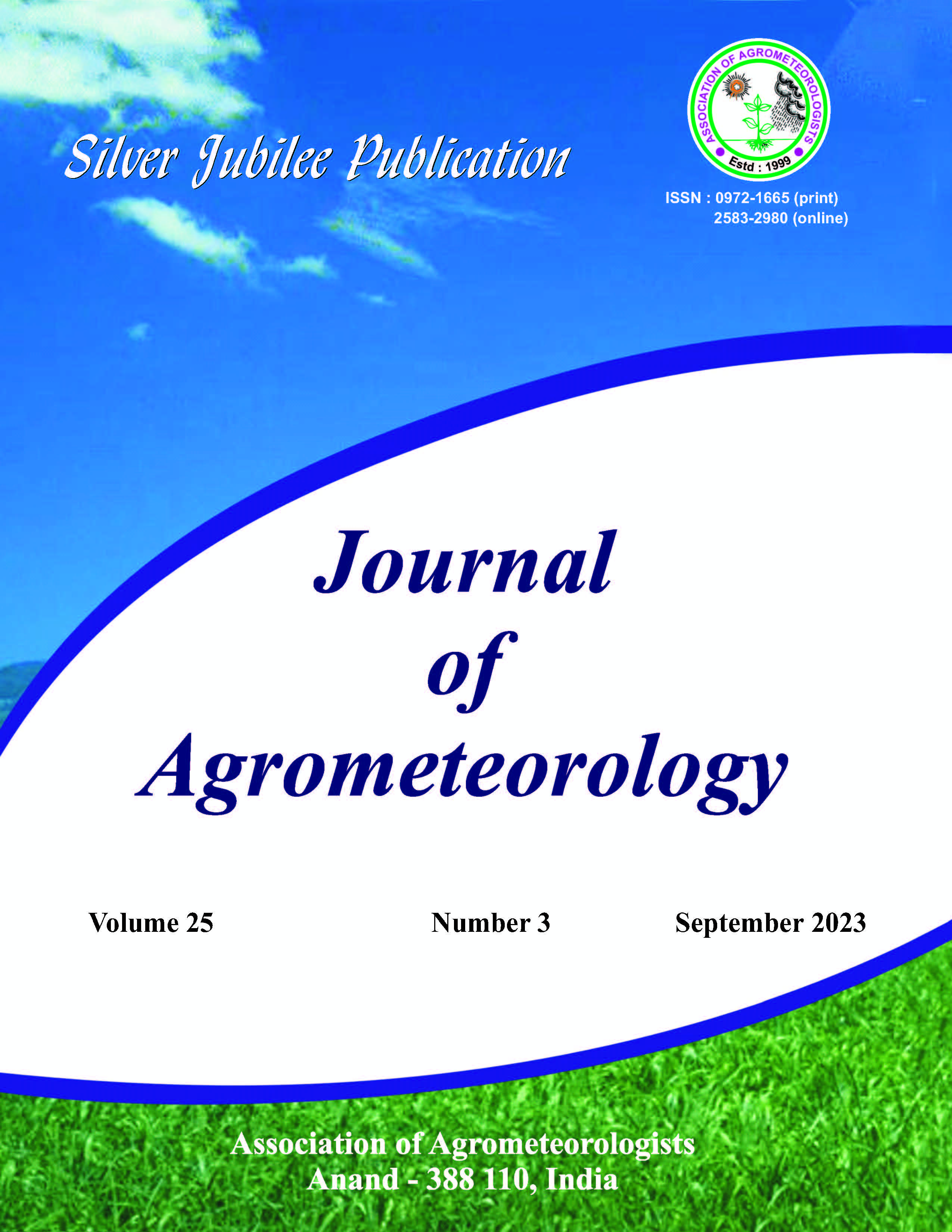 Downloads
How to Cite
N.K., S., V, G., SP, R., T, S., M, S. K., C, P., & T, G. (2023). Assessment of growth and productivity of pearl millet (Pennisetum glaucum L.) with varied sowing environments and nitrogen concentrations using AquaCrop model. Journal of Agrometeorology, 25(3), 470–473. https://doi.org/10.54386/jam.v25i3.2215
Section
Short Communication
License
Copyright (c) 2023 SATHYAMOORTHY N.K., GEETHALAKSHMI V, RAMANATHAN SP, SANKAR T, SELVA KUMAR M, PRADIPA C, GOVINDARAJ T
This work is licensed under a Creative Commons Attribution-NonCommercial-ShareAlike 4.0 International License.
This is a human-readable summary of (and not a substitute for) the license. Disclaimer.
You are free to:
Share — copy and redistribute the material in any medium or format
Adapt — remix, transform, and build upon the material
The licensor cannot revoke these freedoms as long as you follow the license terms.
Under the following terms:
Attribution — You must give appropriate credit, provide a link to the license, and indicate if changes were made. You may do so in any reasonable manner, but not in any way that suggests the licensor endorses you or your use.
NonCommercial — You may not use the material for commercial purposes.
ShareAlike — If you remix, transform, or build upon the material, you must distribute your contributions under the same license as the original.
No additional restrictions — You may not apply legal terms or technological measures that legally restrict others from doing anything the license permits.
Notices:
You do not have to comply with the license for elements of the material in the public domain or where your use is permitted by an applicable exception or limitation.
No warranties are given. The license may not give you all of the permissions necessary for your intended use. For example, other rights such as publicity, privacy, or moral rights may limit how you use the material.