Calibration and validation of APSIM maize simulation model for different date of sowing
References
Akinseye, F. M., A. H. Folorunsho, Ajeigbe, A. Hakeem and S. O. Agele. (2019). Impacts of rainfall and temperature on photoperiod insensitive sorghum cultivar: model evaluation and sensitivity analysis. J. Agrometeorol., 21(3): 262–269. https://doi.org/10.54386/jam.v21i3.248
Archontoulis SV, Miguez FE, Moore KJ. (2014). Evaluating APSIM maize, soil water, soil nitrogen, manure, and soil temperature modules in the Midwestern United States. Agron. J., 106: 1025–1040.
Indiastat, (2021) Agriculture Production 2020-2021. (http://www.indiastat.com).
Mohanty, M., Sinha, N.K., Patidar, R.K., Somasundaram, J., Chaudhary, R.S., Hati, K.M., Sammi Reddy, K., Prabhakar, M., Srinivasrao, C. and Patra, A.K. (2017). Assesment of maize (Zeamay L.) productivity and yield gap analysis using simulation modeling in subtropical climate of central India. J. Agrometeorol., 19(4):342-345. https://doi.org/10.54386/jam.v19i4.603
Patidar, Rohit, M. Mohanty, Nishant K. Sinha, S.C. Gupta, J. Somasundaram, R.S. Chaudhary, R. Soliya, K.M. Hati, M. Prabhakar, K. Sammi Reddy, A.K. Patra, and Srinivas Rao Ch. (2020). Potential impact of future climate change on maize (Zea mays L.) under rainfed condition in central India. J. Agrometeorol., 22(1):18–23. https://doi.org/10.54386/jam.v22i1.117
Sinha, Nishant K., M. Mohanty, J. Somasundaram, R. S. Chaudhary, H. Patra, K. M. Hati, Rana Pratap Singh, Jyoti Kumar Thakur, Jitendra Kumar, Dhiraj Kumar, Alka Rani, A. B. Singh, S K Bal, K. Sammi Reddy, and M. Prabhakar. (2021). Maize productivity analysis in response to climate change under different nitrogen management strategies. J. Agrometeorol., 23(3): 279–285. https://doi.org/10.54386/jam.v23i3.54
TNAU (2020). "Crop Production Guide." Tamil Nadu Agricultural University, Coimbatore.
Willmott CJ. (1981). On the validation of models. Phys. Geog., 2: 184–194.
Yamusa, A. M., and Akinseye, F. M. (2018). Evaluation of APSIM–Maize model under different sowing dates at Samaru, Nigeria. J. Agrometeorol., 20(3): 206-210. https://doi.org/10.54386/jam.v20i3.545
Zhou, J., Li, W., Xiao, W., Chen, Y., and Chang, X. (2022). Calibration and validation ofAPSIM for maize grown in different seasons in Southwest tropic of China. Chilean J. Agric.Res., 82(4): 586-594.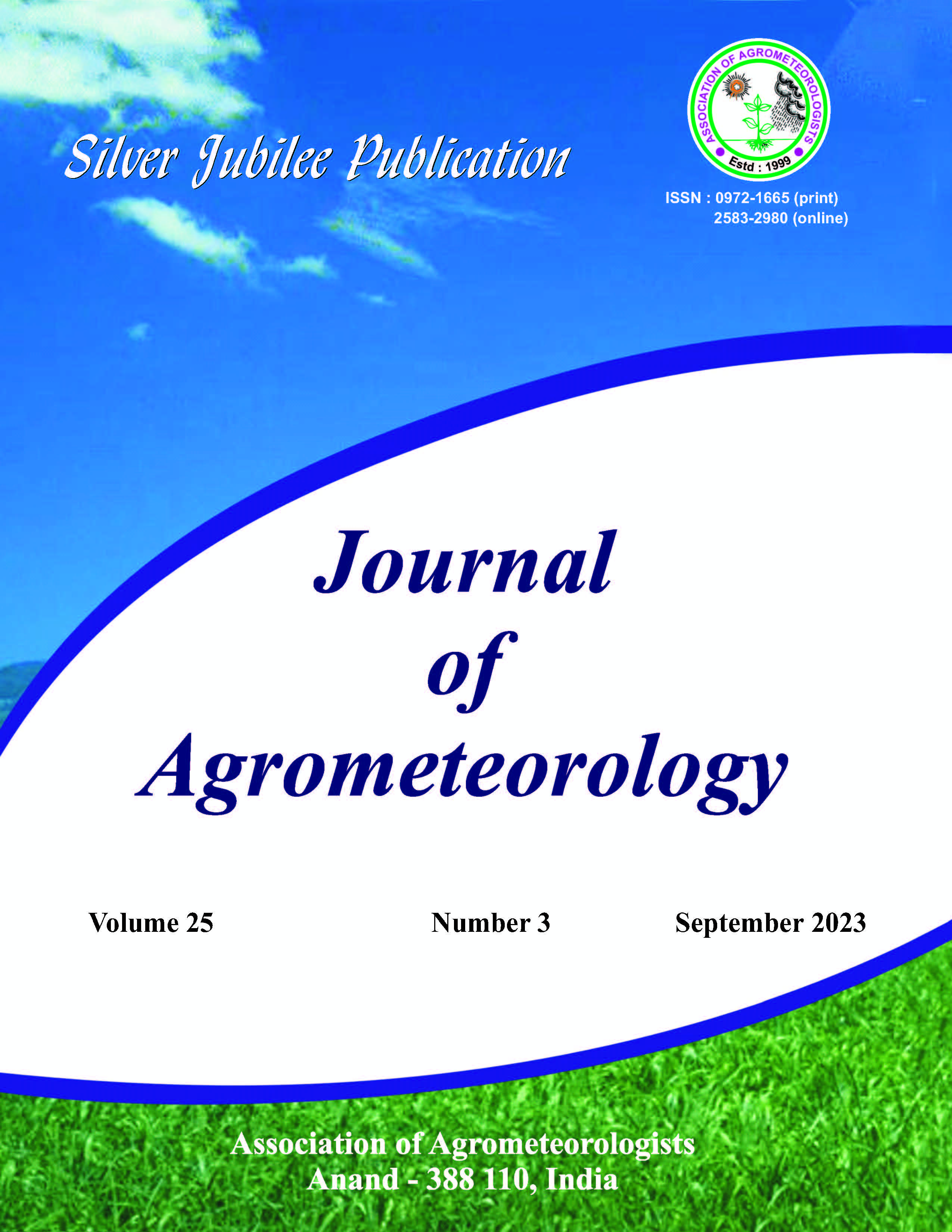 Downloads
How to Cite
GOVINDARAJ, T., MARAGATHAM, N., RAMANATHAN, S., GEETHALAKSHMI, V., & KALARANI, M. (2023). Calibration and validation of APSIM maize simulation model for different date of sowing. Journal of Agrometeorology, 25(3), 474–476. https://doi.org/10.54386/jam.v25i3.2212
Section
Short Communication
License
Copyright (c) 2023 T. GOVINDARAJ, N. MARAGATHAM, SP. RAMANATHAN, V. GEETHALAKSHMI, M.K. KALARANI
This work is licensed under a Creative Commons Attribution-NonCommercial-ShareAlike 4.0 International License.
This is a human-readable summary of (and not a substitute for) the license. Disclaimer.
You are free to:
Share — copy and redistribute the material in any medium or format
Adapt — remix, transform, and build upon the material
The licensor cannot revoke these freedoms as long as you follow the license terms.
Under the following terms:
Attribution — You must give appropriate credit, provide a link to the license, and indicate if changes were made. You may do so in any reasonable manner, but not in any way that suggests the licensor endorses you or your use.
NonCommercial — You may not use the material for commercial purposes.
ShareAlike — If you remix, transform, or build upon the material, you must distribute your contributions under the same license as the original.
No additional restrictions — You may not apply legal terms or technological measures that legally restrict others from doing anything the license permits.
Notices:
You do not have to comply with the license for elements of the material in the public domain or where your use is permitted by an applicable exception or limitation.
No warranties are given. The license may not give you all of the permissions necessary for your intended use. For example, other rights such as publicity, privacy, or moral rights may limit how you use the material.