Impact of temperature, moisture and CO2 on growth of pathogen and severity of emerging dry root rot disease of chickpea in Karnatak
Keywords:
Dry root rot, R. bataticola, Climate change, Temperature, Soil moisture
Abstract
Chickpea is one of the most important food legumes being cultivated in many countries in the world.  Dry root rot caused by Rhizoctonia bataticola is becoming an emerging disease and considered as potential threat to chickpea productivity and production under changing climatic scenario. The pathogenecity of R. bataticola was proved and the identity of pathogen was confirmed molecularly using ITS-1 and ITS-4 primers which produced amplified product size of 500-650 bp in three studied isolates indicating that all the isolates belonged to genus R. bataticola. The maximum colony growth of pathogen and the dry root rot disease severity was recorded at 30-35ºC which is considered as optimum temperature range for growth of pathogen and development of disease. Highest severity of dry root rot and lesser plant growth parameters such as root length, shoot length and total biomass were observed at 40-60% soil moisture regimes, irrespective of type of soil.  The elevated CO2 @ 550 ± 25 ppm with 2ºC rise in temperature recorded higher dry root rot well as reduced growth parameters of chickpea. The increase in the temperature lead to decreased radial growth of pathogen and dry root rot incidence and increase in the soil moisture led to increase in growth parameters in both black as well as red soils.
References
Baker, M.A. (2004). Additional sources of resistance of wilt and root rot of chickpea in Bangladesh. Int. Chickpea News lett., 25: 28-29.
Farr, D.F., Bills, G.F., Chamuris, G.P. and Rossman, A.Y. (1995). Fungi on plants and plant products in the United States. 2nd ed. St Paul, MN: APS Press, pp. 1252.
Ghosh, R., Sharma, M., Telangre, R. and Pande, S. (2013). Occurrence and distribution of chickpea diseases in central and southern parts of India. American J. Plant Sci., 4: 940-944.
Jagadish, S.V.K., Craufurd, P.Q. and Wheeler, T.R. (2007). High temperature stress and spikelet fertility in rice (Oryza sativa L.). J. Experimental Bot., 58: 1627-1635.
Khan, S.N. (2007). Macrophomina phaseolina as causal agent for charcoal rot of sunflower. Mycopathol., 5(2): 111-118.
Mayek, N.C., Lopez-Castaneda, J.A. and Acosta-Gallegos (2002). Reaction of Phaseolus germaplasm to Macrophomina phaseolina. Rev. Fitotec. Mex., 25 (1): 35-42.
Murray, M.G. and Thompson, W.F. (1980). Rapid isolation of high molecular weight plant DNA. Nucleic Acid Res., 8: 4321.
Olaya, G. and Abawi, G.S. (1996). Effect of water potential on mycelial growth and on production and germination of sclerotia of Macrophomina phaseolina. Plant Dis., 80(12): 1347-1350.
Pande, S., Sharma, M., and Ghosh, R. (2010). Climate Change: Potential Impact on Chickpea and Pigeonpea Diseases in the Rainfed Semi-Arid Tropics (SAT). In: 5th International Food Legumes Research Conference (IFLRC V) and 7th European Conference on Grain Legumes, Antalya, Turkey.
Sharma, M. and Pande, S. (2013). Unraveling effects of temperature and soil moisture stress response on development of dry root rot [Rhizoctonia bataticola (Taub.)] Butler in chickpea. American J. Plant Sci., 4: 584-589.
Srinivas, P. (2016). Studies on dry root rot [Rhizoctonia bataticola (taub.) butler] of chickpea (Cicer arietinum). (Doctoral Dissertation, Professor Jayashankar Telangana State Agricultural University, India).
Van Emden, H.F., Ball, S.L. and Rao, M.R. (1988). Pest diseases and weed problems in pea, lentil and faba bean and chickpea. Food leg.es, 519-534.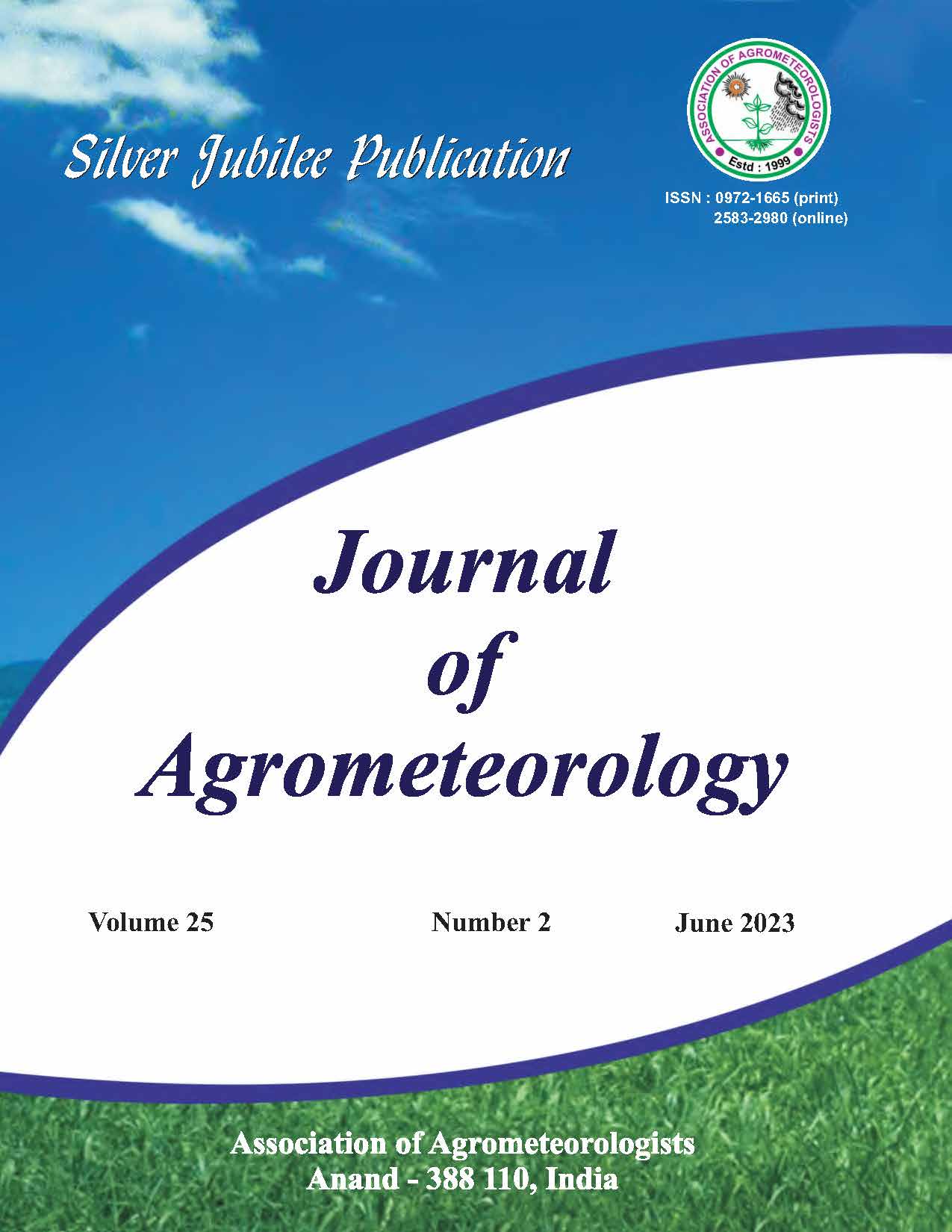 Downloads
How to Cite
SUNKAD, G., DORE, D., PATIL, M., JOSHI, R., & KUMAR, M. (2023). Impact of temperature, moisture and CO2 on growth of pathogen and severity of emerging dry root rot disease of chickpea in Karnatak. Journal of Agrometeorology, 25(2), 312–319. https://doi.org/10.54386/jam.v25i2.2125
License
Copyright (c) 2023 GURURAJ SUNKAD, DEEPA DORE , MEGHANA PATIL , RANJANA JOSHI , MANOJ KUMAR
This work is licensed under a Creative Commons Attribution-NonCommercial-ShareAlike 4.0 International License.
This is a human-readable summary of (and not a substitute for) the license. Disclaimer.
You are free to:
Share — copy and redistribute the material in any medium or format
Adapt — remix, transform, and build upon the material
The licensor cannot revoke these freedoms as long as you follow the license terms.
Under the following terms:
Attribution — You must give appropriate credit, provide a link to the license, and indicate if changes were made. You may do so in any reasonable manner, but not in any way that suggests the licensor endorses you or your use.
NonCommercial — You may not use the material for commercial purposes.
ShareAlike — If you remix, transform, or build upon the material, you must distribute your contributions under the same license as the original.
No additional restrictions — You may not apply legal terms or technological measures that legally restrict others from doing anything the license permits.
Notices:
You do not have to comply with the license for elements of the material in the public domain or where your use is permitted by an applicable exception or limitation.
No warranties are given. The license may not give you all of the permissions necessary for your intended use. For example, other rights such as publicity, privacy, or moral rights may limit how you use the material.