Techno economic feasibility of soybean based cropping systems under varying climates in Madhya Pradesh
Keywords:
Climate change, Crop evapotranspiration, Irrigation, Rainfed agriculture, Soybean
Abstract
Building resilience to climate change through on farm management techniques such as crop diversification, and water management as supplemental irrigation is vital for sustainable agriculture. In the present study, soybean (Glycine Max L.) based cropping systems (sole crop, and intercropped with cotton or pigeon pea) through different combinations of cultivation practices (flatbed, raised bed) and irrigation levels (Rainfed, 66%ETc, 100%ETc and methods (drip, sprinkler) were studied in randomized block design with three replications during kharif season of 2019-20 and 2020-21. Plant growth parameters viz. plant height and dry weight were recorded maximum in rainfed soybean as sole crop, while the number of branches/plant were recorded maximum in sole soybean crop irrigated at 100%ETc. Grain yield (5.37 t ha-1), and water productivity (0.47 kg m-3) were maximum in soybean intercropped with cotton. Overall, cotton+soybean irrigated at 66% ETc can be adopted by farmers to achieve optimal productivity without significant yield penalty.
References
Agarwal, P.K.and Singh, O.P. (2014). An economic analysis of soybean cultivation in Narsinghpur district of Madhya Pradesh, India. Indian J. Agric. Res.,.48 (3):185-191.
Allen, R. G. (1998). Crop evapotranspiration. FAO irrigation and drainage paper, 56, 60-64.
Cheng-Zhi, Cai , Liao Cong-Jian, Xiao Dan, Zeng Xiao-Shan, & Zuo Jin. (2021). Global warming and world soybean yields. J. Agrometeorol., 23(4):367–374. https://doi.org/10.54386/jam.v23i4.139
Dhakad S.S., Ramana Rao, K.V., Bhargava, V.K., Verma, G., Ambawatia, R., Agrawal, V., Verma, S., and Tomar, R.K.S. (2020). Effect of different sowing methods on the growth characters and yield of soybean in vertisol-A review. Intern. J. Current Microbiol. Applied Sci., 9(5): 1607-1618.
Directorate of Economics and Statistics (DAC & FW, MoA &FW) (2022). Agric. Statistics at a Glance. pp. 74.
Fishman, R. (2016). More uneven distributions overturn benefits of higher precipitation for crop yields. Environ. Res. Letters, 11(2): 024004.
Gomez, K.A., and Gomez, A.A. (1984). Statistical Procedures for Agricultural Research. 2nd Ed., John Wiley & Sons, UK. 680 pp.
Jaiswal, A., and Hugar, L.B. (2011). An economic analysis of soybean cultivation vis-a-vis its competing crops in Madhya Pradesh. Karnataka J. Agric. Sci., 24(4): 591-592.
Kaushik, D. K., Patel, S. R., Chandrawanshi, S. K., Khavse, R., Chaudhary, J. L. (2015). Study on agrometeorological indices for soybean crop under different sowing dates in Chhattisgarh region of India. Indian J. Agric. Res., 49(3): 282-285.
Khargkharate, V.K., Kadam, G.L., Pandagale, A.D., Awasarmal, V.B., Rathod, S.S.(2014). Studies on kharif legume intercropping with Bt cotton under rainfed conditions. J. Cotton Res. Develop., 28(2):243-246.
Lobell, D.B., Gourdji,S.M.(2012).The Influence of Climate Change on Global Crop Productivity. Plant Physiol.,160:1686-1697.
Maurya, B.M., Rathi, K.S.(2000).Growth and development of soybean as influenced by intercropping with Pigeon pea and phosphorus level. GAU Res. J., 26(1):1-5.
Mishra, V., Cherkauer, K.A. (2010). Retrospective droughts in the crop growing season: Implications to corn and soybean yield in the Midwestern United States. Agric, Forest Meteorol., 150:1030-1045.
National Food Security Mission (2018). Soybean (Edible oils), Package of Practice,72-75 .https://www.nfsm.gov.in/ReadyReckoner/Oilseeds/PackagePractice_OS2018.pdf
Rajwade, Y.A., Swain, D.K., Tiwari, K.N. and Singh Bhadoria, P.B. (2018). Grain yield, water productivity, and soil nitrogen dynamics in drip irrigated rice under varying nitrogen rates. Agron. J., 110 (3): 868-878.
Sharma, B.R., Rao, K.V., Vittal, K.P.R., Ramakrishna, Y.S., Amarasinghe, U. (2010). Estimating the potential of rainfed agriculture in India: Prospects for water productivity improvements. Agric. Water Manag., 97(1):0-30.
Sharma, T.C. (1996). Simulation of the Kenyan longest dry and wet spells and the largest rain sums using a Markov Model. J. Hydrol.,178: 55-67.
SOPA (2021). Indian: Oilseeds-Area, Production and Productivity. The Soybean Processors Association of India. SOPA, Indore, Madhya Pradesh.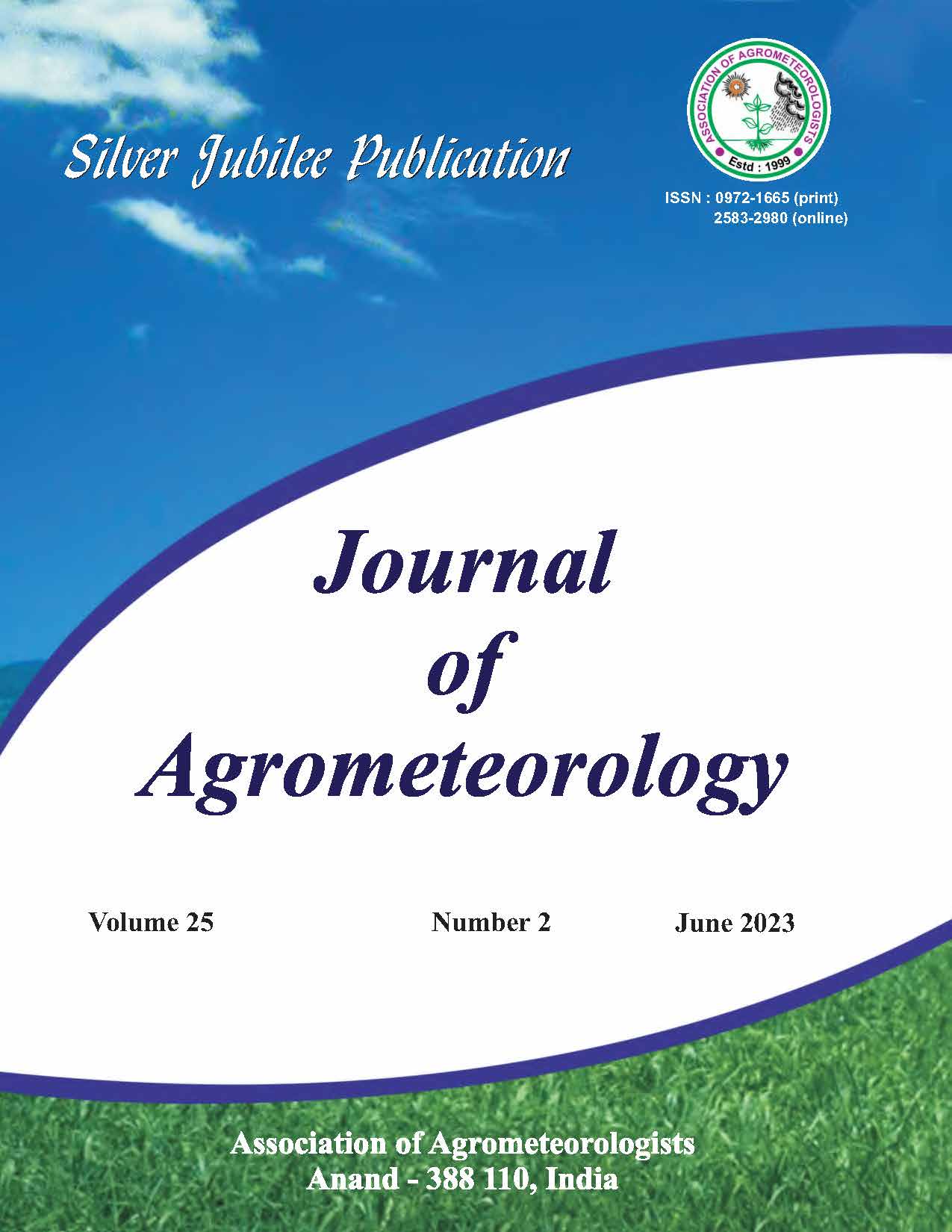 Downloads
How to Cite
K.V. RAMANA RAO, YOGESH A RAJWADE, NEELENDRA SINGH VERMA, DEEPIKA YADAV, & VINAY NANGIA. (2023). Techno economic feasibility of soybean based cropping systems under varying climates in Madhya Pradesh: . Journal of Agrometeorology, 25(2), 300–304. https://doi.org/10.54386/jam.v25i2.1737
License
Copyright (c) 2023 K.V. RAMANA RAO, YOGESH A RAJWADE, NEELENDRA SINGH VERMA, DEEPIKA YADAV, VINAY NANGIA
This work is licensed under a Creative Commons Attribution-NonCommercial-ShareAlike 4.0 International License.
This is a human-readable summary of (and not a substitute for) the license. Disclaimer.
You are free to:
Share — copy and redistribute the material in any medium or format
Adapt — remix, transform, and build upon the material
The licensor cannot revoke these freedoms as long as you follow the license terms.
Under the following terms:
Attribution — You must give appropriate credit, provide a link to the license, and indicate if changes were made. You may do so in any reasonable manner, but not in any way that suggests the licensor endorses you or your use.
NonCommercial — You may not use the material for commercial purposes.
ShareAlike — If you remix, transform, or build upon the material, you must distribute your contributions under the same license as the original.
No additional restrictions — You may not apply legal terms or technological measures that legally restrict others from doing anything the license permits.
Notices:
You do not have to comply with the license for elements of the material in the public domain or where your use is permitted by an applicable exception or limitation.
No warranties are given. The license may not give you all of the permissions necessary for your intended use. For example, other rights such as publicity, privacy, or moral rights may limit how you use the material.